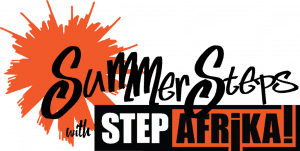 Led by the award-winning and multi-talented artists of Step Afrika!, our camp combines core Step Afrika! values of teamwork, commitment, discipline and academic achievement with excellent performance and artistic training. Each camp culminates with a "step show" performance for family, friends and the public.
Summer Steps with Step Afrika! is a week-long summer camp
for students in rising grades 4 to 12.
We hope you can join us for the 2020 Summer Steps!
Registration opens late January 2020.