In School Programs
Step Afrika! is committed to reaching students around the world. From the onset of the pandemic, we've worked relentlessly to connect with educators to explore revising our programming so that it can reach our students at a time when they truly need it the most. We are thrilled to share that we are offering virtual programming. Connect with us today to invite Step Afrika! into your virtual classroom! For Arts Education Bookings, contact Step Afrika! at bookings@stepafrika.org.
Step Afrika!'s award winning in school programming serves students within the local Washington, DC metropolitan area, across the nation, and abroad. Each program is described in detail below. Questions? Connect with our team today! Email bookings@stepafrika.org.
"Thank you for including our preschoolers today at the assembly. They absolutely loved it and couldn't stop raving about it afterward. A few of them even said "Can they come back again?!" It was truly so special and meant so much to them, and to me as well! Thank you, thank you! :)"
Lowell Elementary School, Seattle
"I just wanted to say thank you so much for today's assembly! Our students absolutely loved it and so did our staff and the parents who attended! The performers were amazing. The students were truly captivated throughout the performance. I have seen movies like "Stomp the Yard," but I've never had the opportunity to see a step performance in person. I hope we will be able to have you back again next year – and every year!"
Thurgood Marshall, Washington DC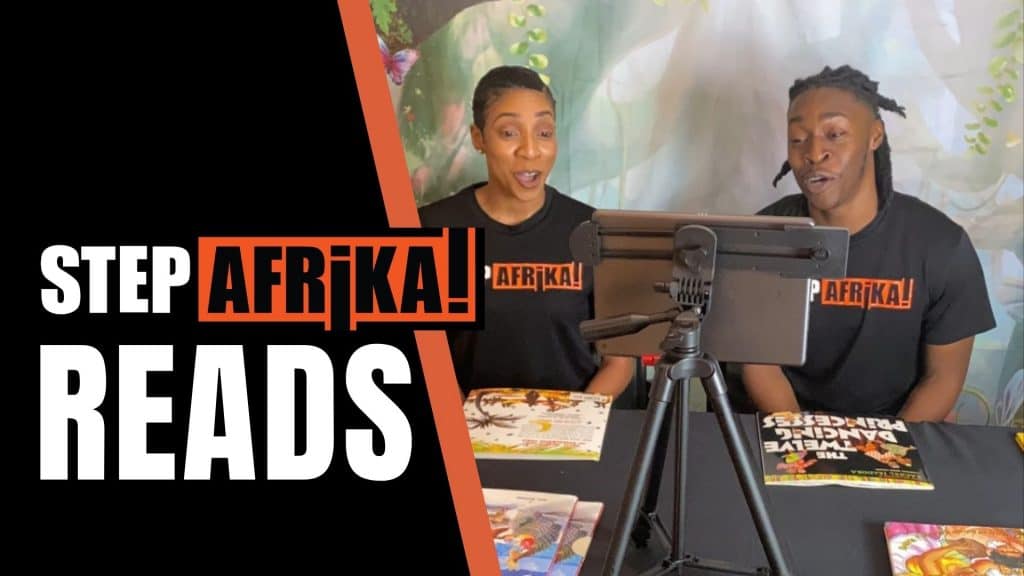 STEP AFRIKA! READS is a performance designed to encourage young children of all cultural and economic backgrounds to be active. It emphasizes the importance of parents reading to their children on a daily basis. The 35-minute program is structured for PreK-2nd grade students and combines reading, exercise and creative movement.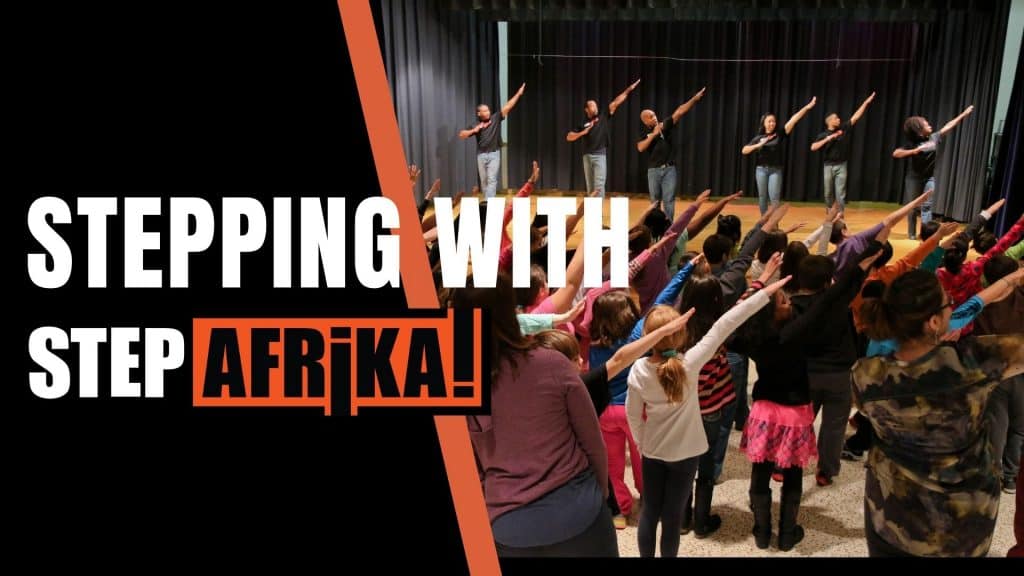 STEPPING WITH STEP AFRIKA! is a highly interactive 45-minute performance for K-12 students that highlights the rhythm, physicality and history of stepping, and culminates in a group activity to get students on their feet.
The program introduces the ties between stepping, college life and academic achievement. It introduces the concepts of teamwork, discipline and commitment. Performers incorporate world traditions, demonstrated through the lively South African gumboot dance. Students enjoy learning basic step choreography and discover how dance brings people and cultures together. Check out our Stepping with Step Afrika! program guide. This program is available virtually.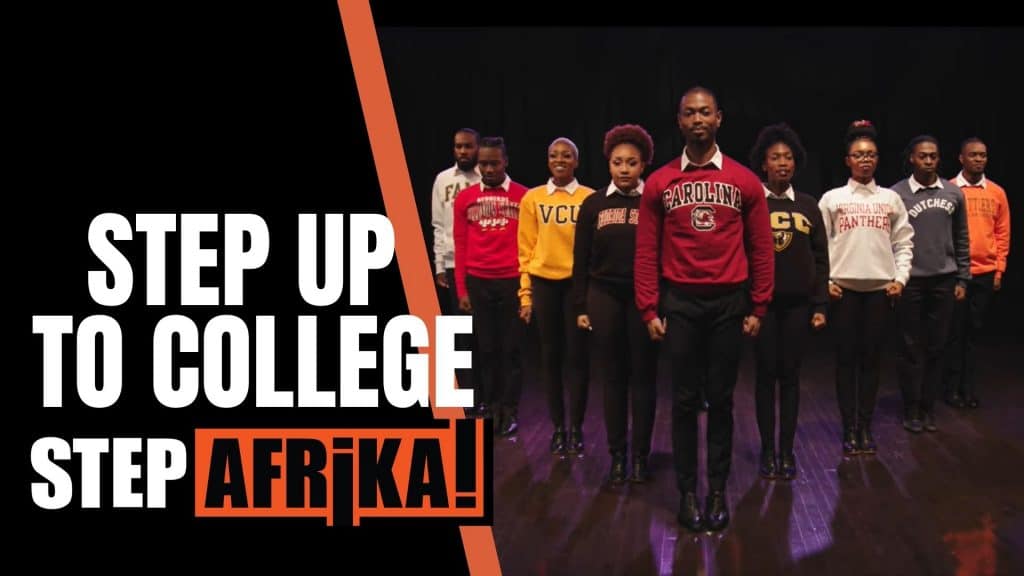 STEP UP TO COLLEGE is a weekly residency program (in school or after school) for 4-12 grade students. The curriculum covers stepping, its history, tradition, and meaning, preparation for college life and simple health and fitness. Participating students receive an age-appropriate activity journal that will supplement these in-class discussions.
Students learn the core values of stepping: teamwork, commitment, and discipline as a part of their own "step team" by working together to create choreography and seeing how every member of the team adds value to their performance. Students also gain self-confidence through creating their own steps and performing at a culminating performance for family and friends. This program is available virtually.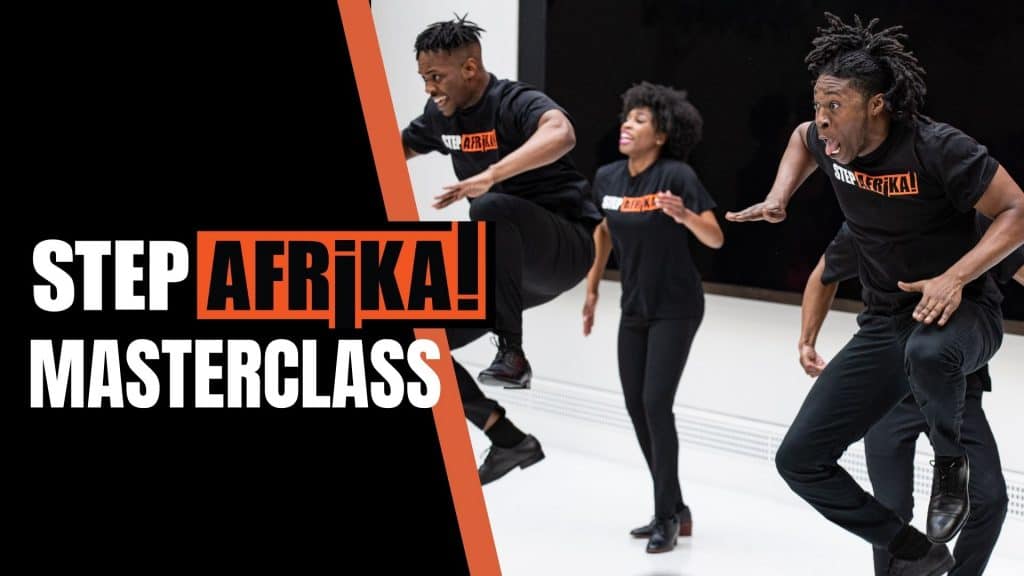 STEP AFRIKA! MASTERCLASS is a 75-minute workshop catered for students who have previous stepping/dance experience. One – two artists teach a maximum of twenty students choreography that is appropriate for their skill level. A 15-minute talk back concludes the session, where students can ask dancers about their experience as a professional dancer, life on tour, greek and college life.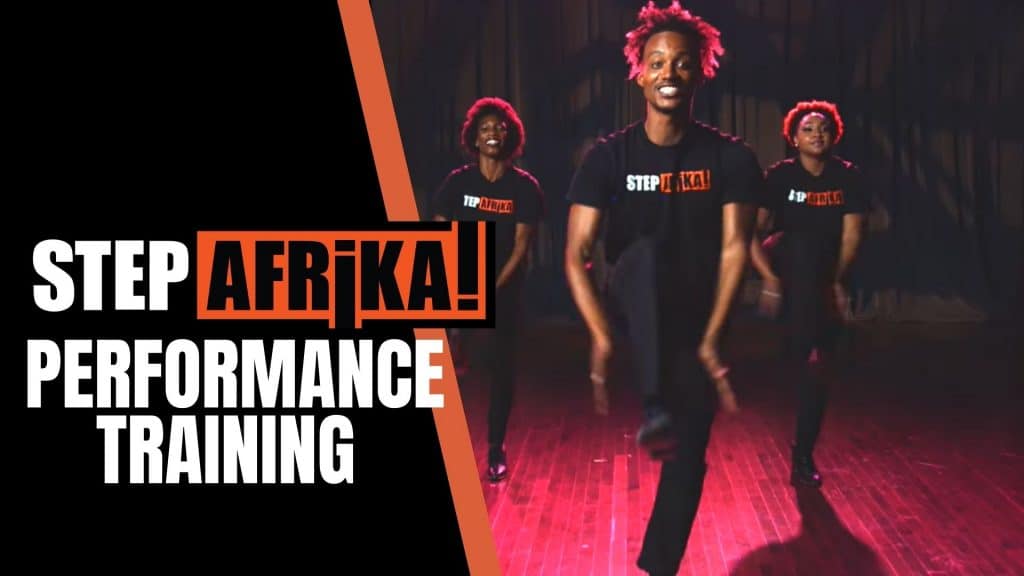 STEP AFRIKA! PERFORMANCE TRAINING is a masterclass that will help any grade school step team prepare for a upcoming performance. Step Afrika! will review the choreographed show, suggest edits, and train the students on performance elements such as stage presence, precision, voice projection, and staging.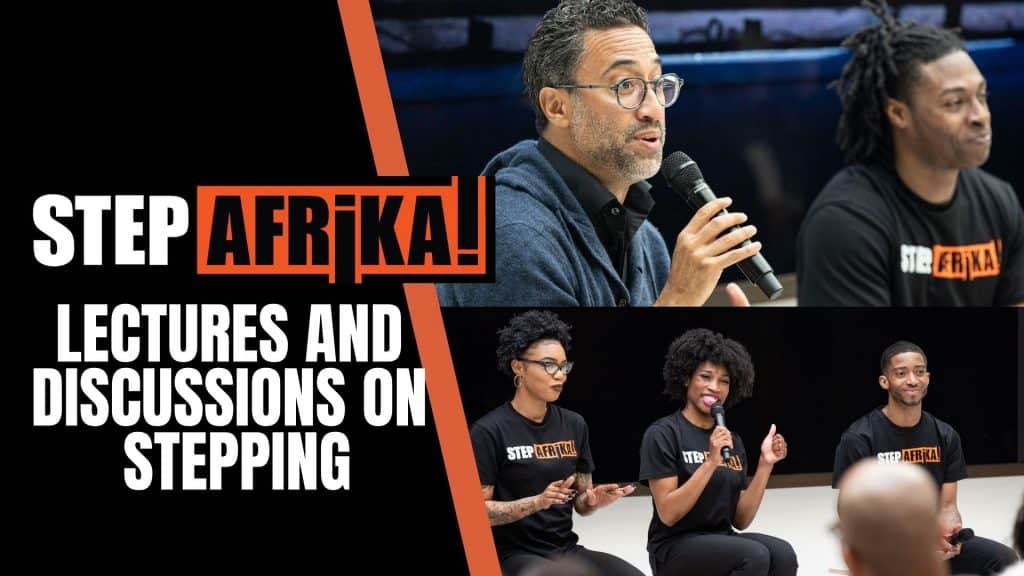 LECTURES AND DISCUSSIONS ON STEPPING is a presentation on the history and development of stepping as an American art form, including an inside look at the historical timeline of the tradition.
STEP BY STEP is 45 minutes of highly energetic, percussive unity in motion. In this assembly-sized workshop-based program for grades Pre-K -12, students enjoy learning step choreography and discovering how dance brings people together. The program introduces the ties between stepping, college life, and academic achievement while discovering the rhythm, physicality, and history of stepping. Our core pillars of teamwork, commitment, and discipline shine through as spectators join Step Afrika! and individual students become a team.
Check Out Step Afrika!'s Virtual Learning In The Classroom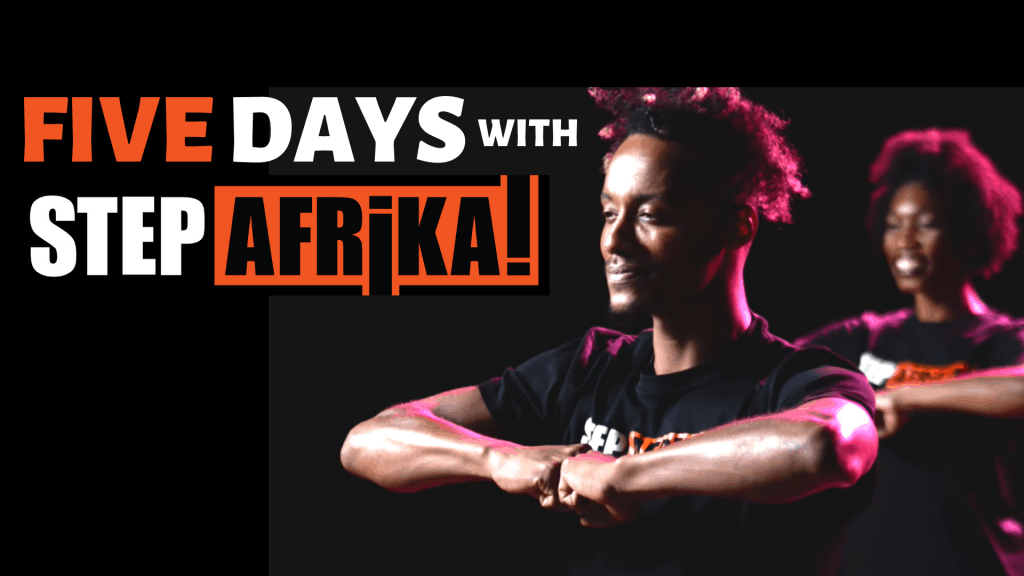 Five Days With Step Afrika! is a highly interactive and engaging virtual arts education program, based on our award winning arts education programs and more than twenty five years of performing and teaching students across the world. Five Days with Step Afrika!  was created to support the academic environment as well as the challenges of virtual learning. Since the 2020 launch of this unique program, Five Days With Step Afrika!  has connected with over a dozen presenters, hundreds of educators and parents, over 50,000 students (and counting!).

Over 50,000 students have experienced Five Days With Step Afrika! 
Experience Five Days With Step Afrika!
Five Days With Step Afrika! consists of five (5) videos. The series is divided into the following sections:
Day One: "What is Stepping?" introductory video and educational guide highlighting the history of stepping.
Day Two: "The Performance, Act 1" condensed first half of standard Step Afrika! performance for viewing in classroom setting.
Day Three: "The Performance, Act 2" condensed second half of standard Step Afrika! performance for viewing in classroom setting.
Day Four: "Stepping with Step Afrika!" stepping tutorial.
Day Five: "Meet the Artists of Step Afrika!" for students. This pre-recorded session will feature the artists answering pre-selected questions that allow students to learn more about their lives as college graduates and artists who travel across the globe.
Watch From the Classroom Perspective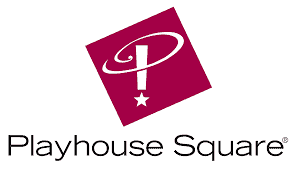 "It was excellent and captivated the students!" (Cleveland, OH)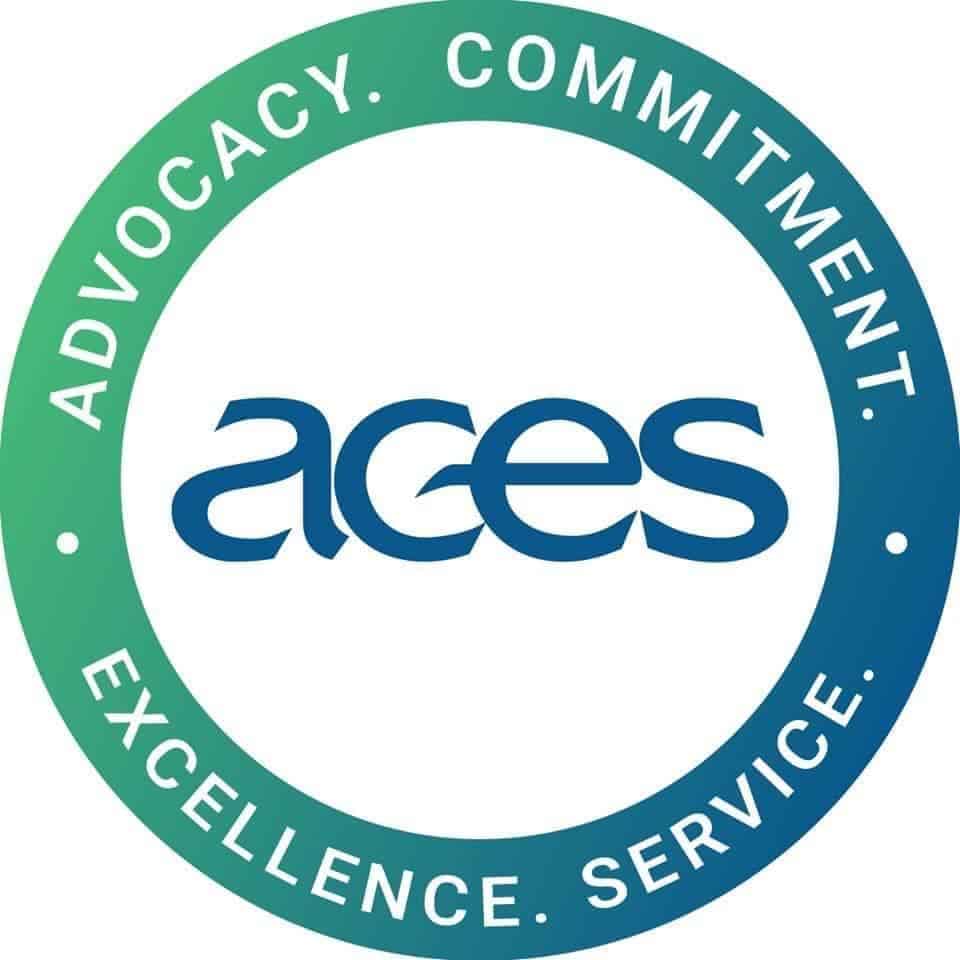 "The performers are exceptional on every level. Their smiles and positivity, along with their messages of higher education and hard work were wonderful reminders for our students of what is possible with dedication and perseverance."  (North Haven, CT)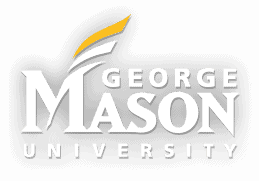 ""My kids are LOVING this. They are STEPPING all over the house. Step Afrika! has done an amazing job because my kids stay engaged through the whole thing (3, 6, & 9 years old." (Manassas, VA) 
We'd love to bring Five Days With Step Afrika! to your students! Connect with our team today! Email us: bookings@stepafrika.org