STEP AFRIKA!'S JUNETEENTH CELEBRATION
Step Afrika! commemorates Juneteenth (June 19, 1865) and the true end of slavery with a new virtual program, "Step Afrika! Juneteenth Celebration" on Friday, June 19th at 8pm/et. This event will be streamed on facebook and youtube. 
Filmed entirely in Washington, DC and directed by Step Afrika!'s artists, performances have been staged at landmarks across our Nation's Capital including the Black Lives Matter Plaza, the Martin Luther King, Jr. Memorial and the National Sylvan Theater on the grounds of the Washington Monument. Each performance honors the rhythm, spirituality and resistance of the African American community through dance and song. As one of the most celebrated African American dance companies in the world, Step Afrika! engages the Juneteenth holiday as an opportunity to fortify our relationships in the communities we serve and to highlight our mission to preserve and promote the tradition of stepping.
Continuing our ongoing exploration of important moments in American history through critically-acclaimed performances such as The Migration: Reflections on Jacob Lawrence and Drumfolk, Step Afrika! looks forward to bringing our diverse community of supporters together in honor of freedom, justice, and equality for all.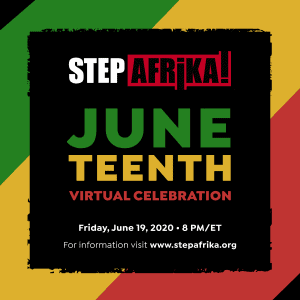 LEADING SUPPORT OF STEP AFRIKA!'S JUNETEENTH VIRTUAL CELEBRATION IS GENEROUSLY PROVIDED BY
The Howell Foundation
Wells Fargo
THANKS TO OUR JUNETEENTH CAMPAIGN SUPPORTERS
Anonymous (59)
Lynn A. Addington
J. Aiken
Lamont Akins
Brenda Albritton
Richard Albores
Gloria D. Allen
Jacquelyn Alton
Cara Anderson
Lynn Arnaiz and W. David Watts
Liam Arne
Hannah Artiles-Stravers
Stacie Lee Banks
Danielle Barlow
Lis and Stu Bass
Marc Battle
Morley Beckman
Ann Belkov and Jerry Lewis
Kalimba Ann Bennett
Nathan Berger
Rebecca Berman
Barbara Bessemer
Patricia Best
Lisette Bethea-Scott and Taikirha Miller
Jenny Bilfield
Brady Birdsong
Amber Blaha
Marla Blow
Elizabeth Blumenthal
Charlene Burton
Sandra Boccanera
Quincy Booth
Ran Borgersen
Shannon Bowen
Sylvia A. Bowen
Shauna Bradford
Julianne Brienza
Lauren Briggerman and Jeff Horwitt
Steve Brigham
Donella P. Brockington
Sara and Matt Brookner
Dyonicia "Dy" Brown
Joi Brown
Lora Brown
Stacey Brown
Tim, Monique and Peighton Brown
Candice C. Bryant
Mary Simmons Burgess
Beverly Jean Burke
Susan Burket
Janice Cagan-Teuber
Julia H. Cain and Robin Reed
Justin Campbell
David Canada
Dr. Anthony Cantrell
Shaleena Capers
Louis Cardenas
Dianne and Eric Carroll
Roxanne Carter
Dr. Barry Chestnut
Kevon Chisolm
Susan and Sig Cohen
Tracie Coleman
Amy Collinsworth
Jacquelyne Conley
Gretchen Cook-Anderson
Annette Coram and Anthony France
Joseph Cortina
Asher Crittenden
Patrice Cunningham
Cutts Consulting, LLC
Allora Goode Cyrus
Rosemary Dawson
Judith Carter Damewood
Matthew Dennie
Wendy Doernberg
Dotty and Jonathan Doherty
Helen Doherty
Melissa Dorn
J. M. Dorsinville
Elizabeth Duffell
Minnettia and Nicolle Durant
Angela Dyson
The Edge Family
The Edwards Family
Caryn Emanuel
Emmy, Gabe and Matai
Toni Featherstone
Susan Peterson Fetter
Brandon Fitzgerald
Nicole D. Ford
Dr. Jacqueline Francis MD
Shelley Franklin
Tristan Fulton, Marcel Fulton and Sydney McCombs
The Furt Family
Shiron Gaines
Princess Gamble
Sean Christopher Gayle
Kate Gibbs
Anne and David Gilbert
Teddy and Naomi Drew Gill
Tiffany Gilliard
Adrienne and Chris Godwin
Rachel Goldberg
Lindsey Goldstein
Ellen Gould-Silcott
Sarah S. Graham
Andra Grant and Brett Ross
Tracey Gray
Lorraine A. Green
Cindy Greenwood
Ona Hahs
Laura R. Hamilton
Elizabeth Hamm
James M. Harkless
Camille M. Harris
Heidi Hawkins
Keri Hellesto
Tiffany Henry
The Hicks Family
Christine Hill
John W. Hill
Darnelle and Charon Hines
Catherine Hogan
Barbara P. Hodges
Susan Holliday
Anita Hopson
Debbie M. Jackson
Thia Jackson and Mike Sullivan
Betsy Jarvis
Jamahl Johnson
Karen H. Johnson
Mershell Johnson
Kristin Johnston
Amanda Jones
Lindsey Jones-Renaud
Alice Kale
Katherine Kane
Maria Kane
Kimberly Katzenbarger
Adriane Keepler and Marley Ford
John C. Kelley
Marlene Kelley
Connie Kelly
Kay Kendall and Jack Davies
Leonard Kendall
Fred Kendrick
Scott Kenison and David Shapiro
Jeffery Kennerly and Erica Green
Kathy Killian
Kimberly King
Shanta Kingham
Rita Kirshstein
Anne Kohn
Sophie and Camille Koroma
Denise Kostbar
Crista Kostenko
Michael Kyrioglou
Andrea LaRue
Shellie Lawson and Family
Alicia Lazaris
April D. Little
Patrick Logan
Molly Love
Lisa Lynch and Family
Shih-In Ma
Kathryn Makos
Freeman Mason
Eileen Freeman Matthews
David and Maris Mazie
Patrick McGlone
Sean J. McIntosh and Alandra N. Ellington-McIntosh
Ella and Barrett Medhurst
Jitesh and Sherri Mehta
Michelle Mellon
Lindsey A. Merritt II
Amir Mesarwi
Mary Ann Miller
Nora and Joel Miller
Stacy Moseley
Tom Mounteer and Bobby Zeliger
Quinn C. Murph
Deirdre Murphy
Ingrid Murray
Kishia Murray
Russell and Tara Nadel
Mr. and Mrs. Nazaire
The Neff-Freeman Family
Essence Newhoff and Paul Gardullo
Rev. Samuel Nixon Jr.
Angela Norman
Peggy O'Brien
Seini O'Connor
Maddie Odegaard
Aya Ofunniyin
Kirsten Olean
Nioyonu and Dadisi Olutosin
Myriama and Zion Kamara Okougbo
Cheryl Opalski
Allen Orr
Maureen Page
Arch and Carol Painter
Dona Paknejad
Carla Perlo and Richard Pilkinton
Harold and Amy Pettigrew
Johnette Peyton
A. Phillips
Janice Pippens
Angela Pratt
Robert J. Pratt
Elizabeth Prince
Zack Ramadan
Patricia Raspberry and Renee Raymond
Dr. Jaret C. Riddick
Nancy Riker
Michelle Robertson
Jasmin Robinson
Julie Robinson
Susie Romano
Michael Rosenberg
Patricia Rosier
Lisa Ross
Caitlin Roukin
Jasmine Saldenha
Ellen and Joel Sauer
Jean Saunders
Will Saunders
Elizabeth F. Schwartz
Rebecca Scritchfield
SDNG Dhokai
Serge Seiden
Jeanne Segal
Baraka Sele
Carolyn and Jeff Serfass
Keitha Shepherd
Stacia, John and Easley Shillingford
Debra Singletary
Amanda Sirianni
Martin Skea and Chris Mondini
Christy Skipper
Keith Slade
Dr. and Mrs. Jeffrey and Lisa Snyder
Natasha Somji
Brandi Sperry
Michelle Kerr Spry
Aaron Stallworth
Anne Stauffer and Norton Francis
Susan and Lewis Steinberg
Ella Stephen
Fonda Stephens-Kelly
The Stokes-Yokote Family
Scott Stroud
Amanda Sweet
Casey Swegman
Adam and Sharee Taylor
Steve and Kym Taylor
Elaine and Paul Tendler
Dr. Wesley Delaine Thomas
Linda Thomas-Greenfield
Heather Joy Thompson, Esq.
A.E. Thurman
Holly Tomlin
Charity Tran
Donna Tymus
Laura and Nick Unger
Sredni Vashtar
Paris, Niki, and Lela von Lockette
John Daniel von Kerczek
Catherine von Storch
Muriel Joan Waggoner
Trista Wagoner
Antwuan Wallace
Cynthia Walker
Roger Walker
Amy Walter and Kathryn Hamm
Teresa Walters
Dr. Benjamin and Natasha Watkins
E. Brian and Kendall Watkins
Bruce Waxman and Sarah Elpern
Mandi Wedin
Ellen Weiss
Barbara Wells
Daphne R. Wells
JoVita Wells
Suzanne Wells
Beth Wheeler
Tyler Whitaker
Sunny Widmann
Angela Wiggins
C. Brian Williams
Jennifer Williams
Kirsten Williams
Linda Williams
Warren Williams
Abbey Willman
Patricia Wilkins
Kerrie Wolf-Piechota
Sheryl Robinson Wood
The Woods Family
M. Woolston
*This list was updated on June 22, 2020 as of 10 a.m.
VIP GALA 2020
THIS EVENT HAS BEEN POSTPONED
Join Gala Chair, John A. Allen, Regional Vice President, Wells Fargo
and key Step Afrika! supporters for the District's most energetic Gala!
Step Afrika! harnesses the tradition of stepping as a tool for cultural awareness, youth engagement, and audience-centric entertainment in the United States and abroad. Your attendance at our annual gala will help bolster our award-winning arts education programming in the District—ensuring that we maintain a healthy and inspiring presence in local schools where the need is greatest.
CLICK HERE TO VIEW OUR SPONSORSHIP PACKAGE
Purchase Tickets Donation in Lieu of Attendance
STEP AFRIKA!'S VIP GALA 2020 IS GENEROUSLY SUPPORTED BY:
STEP AFRIKA!'S 25TH ANNIVERSARY BIRTHDAY PARTY
The 25th Birthday Party unites our artists, friends and key supporters for a fabulous after-work gathering with multiple open bars, festive appetizer stations, and the opportunity to dance with Step Afrika!'s 14 full-time artists. Guests not only support Step Afrika! but kick off the holiday season with a fun night of philanthropy, networking, and, of course, partying!