VIP GALA 2022
Gala Chair, Calvin G. Butler, Jr., Senior Executive Vice President and Chief Operating Officer at Exelon, and key Step Afrika! supporters hosted the District's most energetic Gala on Tuesday June 7, 2022.
Step Afrika! harnesses the tradition of stepping as a tool for cultural awareness, youth engagement, and audience-centric entertainment in the United States and abroad. This annual gala supports Step Afrika!'s award-winning arts education programming in the District of Columbia. The generous support of our sponsors and donors will ensure that we maintain a healthy and inspiring presence in local schools where the need is greatest.
STEP AFRIKA!'S VIP GALA 2022 IS GENEROUSLY SUPPORTED BY:
GALA CHAIR 
Calvin G. Butler, Jr.,
Senior Vice President and Chief Operating Officer, Exelon
EXECUTIVE PRODUCER
Bank of America
Reginald Brown and Tiffeny Sanchez
The Howell Foundation
PRODUCER
Amazon
Ann Belkov and Jerry Lewis
DC Housing and Finance Agency
John W. Hill
Ideal Electrical Supply Corporation
Octane PR
Pepco
Walmart
Washington Gas
DIRECTOR
Brady Birdsong
Ran Borgersen
Jeffery D. Kennerly
The Menkiti Group
Troy Patterson
Allan Smith Jr. and Marija Zivanovic-Smith
Sodexo
Kym Taylor
Verizon
Darryl Wiggins
C. Brian Williams
HEADLINER
Dy Brown
Beverly J. Burke
DC Water
Christopher Montgomery
Melanie Trottman
Natasha Watkins and Dr. Benjamin Watkins III
Conrad Woody
PERFORMER
Lamont Akins
David C. Bowers
Brandy Butler
David and Monique Canada
City First Bank
Dante's Partners
Andrew and Heather Florance
Jacqueline Francis, MD
Janel Merritt
Latrena Owens
Glenn E. Singleton
Kebharu and Mignon Smith
Anne Stauffer and Norton Francis
Tito's Vodka
Councilmember Todd M. Turner
Reggie Van Lee
PATRON
Cristal Baron
Alexandra Burns
Dr. Lauren P. Davidson
Angie Fox
Dawn C. Jones
Dr. Jaret C. Riddick
Shirley Rivens Smith
GALA DONORS
Anonymous (2)
Sandra Boots
Mark Browning
Andrew Clarke
Monica Davis
Fort Lincoln New Town Corporation
N. Elois Burrell Frederick
Sandra Gaston
Jacquelyn Glover
Shayla Hines
Judy G. Honig and Stephen Robb
Tisha Hyter
Tanisha A. James
Marlene N. Kelley MD
Belinda Matingou
Stefanie J. Reiser
Ramon Richards
Alison Ritz
Maurice A. Scott
Natasha Smith
Holly Tomlin
Danielle Turnipseed
Gretchen Wharton
STEP AFRIKA!'S JUNETEENTH CELEBRATION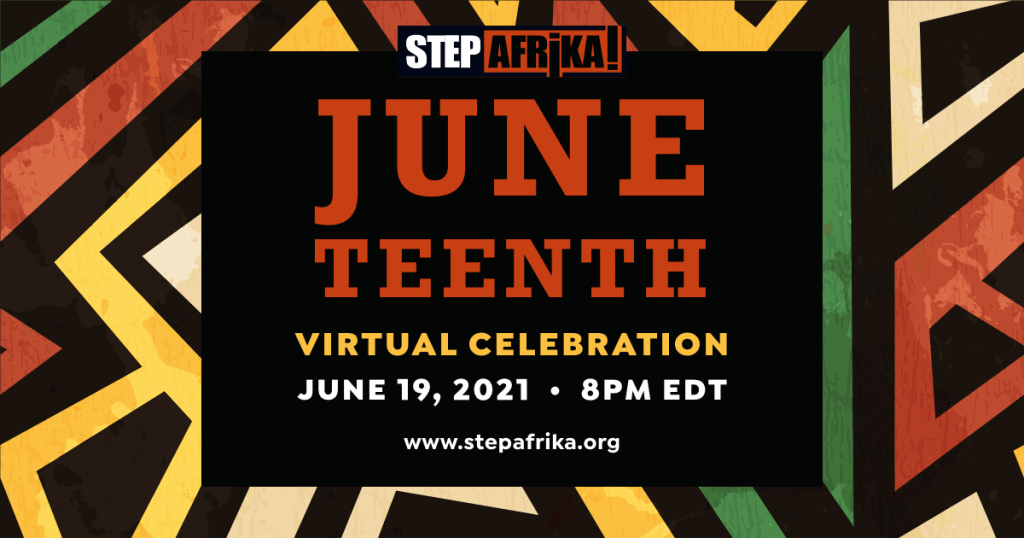 Step Afrika! returned to the virtual theater to commemorate Juneteenth (June 19, 1865) as the day that federal troops arrived in Galveston, Texas to ensure that all enslaved people were freed, two years after the signing of the Emancipation Proclamation. Premiering three unique works, Trane, Little Rock Nine and The Movement; Step Afrika!'s virtual celebration honors and embodies the determination, resilience, and reclamation of freedom with newly filmed choreographic masterpieces inspired by the African American experience.
Step Afrika!'s Juneteenth Virtual Celebration premiered on Saturday June 19, 2021 at 8PM ET and was available for extended viewing until Sunday July 4, 2021 at 11:59PM ET.
Lead sponsorship support for Juneteenth is generously provided by AbbVie and Bank of America. Additional sponsors support provided by AARP, Capital One, Capitol Hill Community Foundation, Pepco an Exelon Company, Spera Group at TTR Sotheby's International Realty, Verizon and Washington Gas. Step Afrika! extends deep gratitude to Events DC and the DC Commission on the Arts and Humanities for operating support as Washington, DC's largest African American arts organization.
JUNETEENTH CELEBRATION DONORS
As of June 22, 2021
Anonymous (9)
Victor A.
Baiyina Abadey
Bridgit Abel
Binila Abraham
Rhonda Adams
Sandra Adams
Lynn Addington
Yolanda Ahadzie
Joyce Akhahenda
Lorielle Akintunde
Yolanda Alcorta
Connie Allen
Jasmine Allen-Dorsey
Jacquelyn Alton
Amy Alvarado
Taneisha Alvarez
Katia Anderson
Taryn Anthony
Bernadette Aquil
Ebony Arrington
Lucinda Babers
Deborah Baker
Luwanda Baker
Susan Baldridge
Anissa Banks
Traci Barnes
Sarah Barry
Elisabeth Bass
Nichole Battle-Walker
Geeti Bawa
Ann Belkov
Cheryl Bell
Monica Belle
Daniel Berek
Louise Bickman
Adrienne Biggers
Susan Biggs
Nyerere Billups
Jennifer Binder
Brady Birdsong
Rebecca Bishophall
Catherine Blair
Sharie Blanton
Steve Blumenthal
Bianca Bob
Thomas Boman
Patricia Booker
Ran Borgersen
Pamela Jae Boveland
Amanda Boyd
Tina Briggs
Luiza Brown
Sharon Brown
Victoria Brown
Candice Bryant
Ocie Bryant
Rachel Bueide
Drenard Bullock
Norma Bullock
Sallybeth Bumbrey
Kianga Bunch-Thompson
Beverly Burke
Rebecca Burke
Susan Burnett
Ericka Denise Burney-Hawkins
Lisette Burton
Qwanetra Butler
Janice Cagan-Teuber
Julia Harman Cain
Sherri Cameron
Michaela Campbell
David Canada
Gigi Capuyan
Jeanine Carter
Samantha Caruth
Schcola Chambers
Arline Chapman
Carla Chissell
Golriz Chrostowski
Andrew Clarke
Victoria Clement
Nancy Clifton-Hawkins
Charles Clyburn
Venus Coates
Kenneth Cobb
Mario Cobian
Gwen Cofield
Susan and Sig Cohen
Alana Cole-Faber
Charellise Coleman
Charles M. Coleman, Jr.
Debra Coleman
Linda Coleman
Ashley Collins
Athelene Collins
Maria Collins
Ellen Conover
Jacqueline Cooke
Charmaine Cooper-Jamison
Cecelia Cooper-Nelson
Rosa Coppedge
Charlie Corbin
Laura Cortese
Karen Crump-Wilson
Keisha Culbreth-Brooks
Chermaine Daniel
Stephanie Deason
Carolyn Nicholson Dedier
Alayne Dexter-Scholz
JoAnn Dillard
Karena Dobbs
Cheryl Dodwell
Tony Donaldson
Kevin Douglas
Adrienne Douglass
Connie Drew
Bernadette Duffy
Sabrina Dukes
Minnettia Durant
Glenette Eaddy
Lisa Ealy
Joanne M. Ebersbach
Deborah Edwards
Hermane Eiland
Henri Elliott-Cooper
Ruth Ellis
Ashley Emmett
Laura Engel
Suzette Ettienne
Patricia Everette
Kimberly Ewing
Sarah Fader
Norma Felbinger
Janice Ferebee
Eve Fernandes
Susan Fetter
Beverly Fields, Esq.
Christal Fleishman
Jacqueline Francis, MD
Rodney Frank
Dezne Fraser
Monique Frazier
Danielle Gaither
Allison Gannon
Ashley Garrett
Mary Jo Garrett
Dr. Nadine P. Gartrell
Sandra Gaston
Catherine Gerasimov
Christine Gerber
Ashley Gilliard
Christin Glover
Emily Goering
LaToya Goodall
Nancy Gailliard Gordon
Diane Gorman
Christine Grand
Melissa Gray
Roderick Gray
Tracey Gray
Mari Greb
Lorraine Green
Michael Green
Corey Griffin
Daniell Griffin
Karen Griffin
April Gung
Bernadette Guyton
Makina Hagans
Laura Hamilton
Marie Romero Hannon
Lisa Harlan
Bridgette Harris
Camille M. Harris
Tiffany Harris
Deirdre Harrison
Patricia Harrison
MJ Hartka
Velarie Harvell
Gail Hawkins
Deborah Hawkins-Minor
Linnea Hegarty
Wanda Hembry
Rhonda Henderson
Glynis Hennegan
Maricel Hermann
Nicole Hicks
Sebrina Hicks
Tracey D. Hicks
Devin Hill
Hope Hill
John Hill
Joshua Hill
Lisa Hill
Pauline Hilliard
Judy Hinton
Patricia Hitchens
Dawn Hoffmann
Yvonne Hood
Brenda Huff
Eva Saunders Hunter
Cisselon Nichols Hurd
Mia Hyman
Robert Ireland
Laura Isom
Elka Jackson
Jacqueline Jackson
Sonja Jackson-Newton
Maunda Jackson-Stewart
Nicole Jackson-Taylor
Anna Jacobs
Emily Jacobs
Lisalyn Jacobs
Allen Jenkins
Dominique Jenkins
Laura Jennings
Arleen Jeter
Jay John
Antoinette Johnson
Cherie Johnson
Christie Johnson
Jeffrey Johnson
Lynnette Johnson
Octavia Johnson
Shannan E. Johnson
Afiya Jones
Dietra Jones
Elnita Jones
Joakima Jones
Jonathan Jones
Paula Lima Jones
Veronica Jones
Soreya Judge
Christina Junior
Rhonda Karmbor
Diane Kawa
Ellen Keating
Carolyn Kelemen
Marlene Kelley
Peter Kelman
Kay Kendall and Jack Davies
Heather Kenvin
JoAnn Kester
Timkia Kirby
David Klein
Bruce Knoth
Ken Knowles
Tijuanna Knox
Anna Kopinski
Denise Kostbar
Mondi Kumbula-Fraser
Janaki Kuruppu
Lillian Lahiri
Susan Laing
Linda Laird
Sandra Lark
Krista LaRocque
Andrea LaRue
Christina Leath
Ryan Lemelle
Lynne Lester
Michael Lewis
Michele Lewis-Fleming
Nathalie Lilavois
Keli Drew Lockhart
Melba Lucas
Shari Eason Ludlam
Maryam Lynch-Tate
Alicia Lyons
Katherine and Alexander Macleod
Dianysious Madison
Sabrina Madkins-Cruz
Kathryn A. Makos
Lindsey Maliekel
Pierdtje Marlin
Robin Marshall
Virginia Mathis
Amie Mattson
Sophia McAllister
Janice McCain
Dee McChain
Gina McClain-Prather
Brian McCollum
Tessa Murphy McGee
Sean J. McIntosh and Alandra N. Ellington-McIntosh
Sarah McLain
Heather McPhail
Nicole McRae
Dorothy McSweeny
Anthony Merritt
Laura Metzger
Elizabeth Meydenbauer
Ronnie Miles
Christopher Montgomery
Stacey Montgomery
Paulea Mooney-McCoy
Edward Moore
Karen Moore
Katherine Moore
Norrisa Moore
Heidi Mordhorst
Kelley Morgan
Sandra Moscoso
Patrick Moulding
Tom Mounteer and Bobby Zeliger
Laura W. Muhammad
Janet Muldrow
Megan Murphy
Tracey Newman
Jacqueline Naves
Sonya Nicholson
Maria Nickens
Robert Nix
John Norman
Lauren Nyack
Peggy O'Brien
Kupenda I. Olusegun
Lisa M. Ong
Joseph Oratokhai III
Elon Osby
Lorri Owens
Bonnie Pabon
Ellen Parry
Christie Paul
Stephane Pearce
Jacquie Perry
Revamarie Perry
Margaret Peterson-James
Sandra Pfirrmann
Ani Phelan
Darion Phillips
Joycelyn Poole
Regina Porter
Marla Posey-Moss
Constance Povich
Shawn Powell
Angela Pratt
Manon Prevost-Mullane
May Prime
Elizabeth Prince
Courtney Proctor
Janet Quinn
Kim Rains
Jennifer Rajkumar
Zack Ramadan
Laura Ramirez-Ramos
Rene Ramon
Phillip Randall
Karen Ransom
Jessica Read
Walter Redmond
Shawndrika Reed-Sutton
Melissa Rhodes
Mary Rhodes-Selser
Elaine Rich
Laurie Richardson
Jaret Riddick
Vanessa Ripps
Brenda Robbins
Silvia Roberts
Birhanie Robinson
Theresa Robinson
William Rodney
Lashun Rogers
Michael Rosenberg and Patricia Germann
Dawn Rowe
Natasha Rubin
Rorie Rueckert
Yeane Russell
Marquita Rustin
Chase Rynd
Clayton Salter
Laurie Sayles
Dena Scher
Glynnette Scott
Maurice Scott
Ron Scott
Rose Seraphin
Bayinnah Sharrief
Kerri Sheehan
Burnette Sheffield
Tia Simmons
Teresa Simms
Teandra Shockley
Melody Sidberry
Debra Singletary
Kedric Sires
Judine Slaughter
Deena Smith
Karine Smith
Kebharu and Mignon Smith
LaWanda Smith
Amy Sodaro
Thomara Speight
Tila Speight
Kelly Starnes
Peggy Stepchuk
Fonda Stephens-Kelly
Katrina Sterling
Becky Steward
Veniqua Stewart
Laurie Stiles
Scott Stroud
Carey Swanson
Kathleen Swayze
Casey Swegman
Delana Swift
Robyn Talbert
Kimberly Tate
Penny Tavormina
Alice Taylor
Cheryl Taylor
Erica Taylor
Kym Taylor
Pennie Taylor
Sheila Taylor
Tamielle Taylor
Alysia Terrell
Stephanie Terry
Jean Thomas
Meredith Thomas
Phil Thomas
Tanya Thomas
Dana Thompson
Emma Thompson
Lynn Thompson
Erica Thornton
Candice Titus
Angela Trapp
Melanie Trottman
Tiffani Truss
Desiree P. Urquhart
Vito Valentini
Erin Van Heel
Charlita Vann Wofford
Trista Wagoner
Carol Walker
Denese Walker
Schonette Walker
Sheila S. Walker
Laura Waltrip
Reginald Ware
Jennifer Washburn
Jolyn Washington
Michelle Washington
Dr. and Mrs. Benjamin O. Watkins III
Jennifer Webb
Raquel Weeks
Ellen Weiss
Cynthia Whalen
Beth Wheeler
Betty White
Cessily White
Tadia Whitner
Dosita Wilkes
Bea M. Williams
Belinda Williams
C. Brian Williams
Carol Williams
Elena Williams
James Williams
Kimberly Williams
L. Marie Wills
Serena Wills
Anita Wilson
Beulah Wilson
Yolanda Wilson
Nancy Wolcott
Zoe Woodard
Charmaine Woolard
Anna Wyeth
Harvey R. Yancey
Alexis Yee-Garcia
Andrea Zappone
Michele Zollinger
STEP AFRIKA!'S 25TH ANNIVERSARY BIRTHDAY PARTY
The 25th Birthday Party unites our artists, friends and key supporters for a fabulous after-work gathering with multiple open bars, festive appetizer stations, and the opportunity to dance with Step Afrika!'s 14 full-time artists. Guests not only support Step Afrika! but kick off the holiday season with a fun night of philanthropy, networking, and, of course, partying!