AUDITION FOR THE OPPORTUNITY TO
STEP AROUND THE WORLD!
Auditions have been postponed to
Fall 2020
Step Afrika! offers competitive salaries, and extensive national/international touring. The Company hires both Full-Time and Part-Time company members for annual contracts, commencing in August. New hires must be willing to relocate to Washington, DC.
Accomplished performers in Stepping, Tap, West African, Modern, Hip-Hop, etc., and those with strengths as drummers are encouraged to audition.
For more information about auditions email the Company Manager at companymanager@stepafrika.org.
ADMINISTRATIVE STAFF
There are no administrative staff openings at this time.
TEACHING ARTISTS
Step Afrika! is looking for teaching artists to serve as an integral part of our arts education programs. The teaching artists are a major component of Step Afrika!'s connection to our home city of Washington, DC. They serve as lead instructors for school residencies, and will receive ongoing support from the Step Afrika! company.
This is a part-time position with a 10-month contract, with possible renewal. Must be based in Washington, DC. For full job description of our PT Teaching Artists, click here.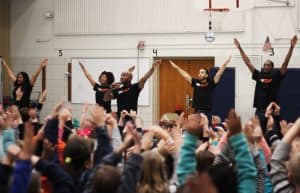 ---