AUDITION FOR THE OPPORTUNITY TO
STEP AROUND THE WORLD!
Step Afrika! offers competitive salaries, and extensive national/international touring. The Company hires both Full-Time and Part-Time company members for annual contracts, commencing in August. New hires must be willing to relocate to Washington, DC.
Accomplished performers in Stepping, Tap, West African, Modern, Hip-Hop, etc., and those with strengths as drummers are encouraged to audition.
Auditions for the 2021-2022 season were held in Washington, DC. Stay tuned for more information about the 2022-2023 season auditions.
In order to begin the registration process, complete the tasks listed below:
Complete the DANCER AUDITION FORM below.
Email your RESUME and HEADSHOT to companymanager@stepafrika.org.
Additional details will be provided to each applicant upon receipt of the dancer audition form, resume and headshot. A member of the Step Afrika! team will follow up with you to confirm.
Dancer Audition Form
Fill in the form below to start the process of Auditioning for Step Afrika!
Don't miss any Step Afrika! news – join our mailing list here.
ADMINISTRATIVE STAFF
Position: Marketing Manager, Step Afrika! 
Salary: $60,000 
Schedule: T/W/TH (in-person); M/F (telework) 
Location: Washington, DC 
Benefits: Health Insurance (medical/dental/vision), paid vacation, holiday, personal days, and sick leave. 
Founded in 1994, Step Afrika! is the first professional dance company (501 c 3) to promote the African American tradition of stepping through innovative and inclusive performances, arts education programs and community outreach.  The company's mission is to preserve, expand, and promote an appreciation for stepping through professional performances and to inspire young people through arts education programs that emphasize teamwork, commitment, and discipline.  
Step Afrika! seeks to fully occupy its role as an innovative dance company, the leading Black cultural institution in the nation's capital (Washington, DC) and a national thought leader in the field of Black arts.  This will be achieved as part of a dynamic five-year strategic plan outlining a) performances, special events and education programs that engage the entire community, b) online technology to build a larger national presence, c) establishing important collaborations with artists, arts organizations and other relevant institutions, and d) continuing to build its national and international touring program.   
The Marketing Manager will expand brand awareness and recognition of Step Afrika!'s domestic and international touring engagements as well as arts education programs through strategic use of advertising dollars, public relations, and large-scale communications projects. Candidate must be able to work a flexible schedule as required – some weeknights and weekends – as dictated by performance and event activities. This position will report to Step Afrika!'s senior leadership. 
Primary Responsibilities: 
Oversee the management of Step Afrika!'s identity and ensure that all communications are on-brand. 

 

Build a cohesive and dynamic inbound and outbound e-mail marketing strategy.

 

Manage the development and dissemination of all online content for Step Afrika!, including, but not limited to, the website and all social media platforms;

 

Oversee and manage the creation and dissemination of brand-centric and visually exciting marketing materials, including, but not limited to, newsletters, brochures, flyers, programmatic updates, and annual reports. 

 

Participate in the annual development of a public relations plan that increases awareness of Step Afrika!'s brand, arts education and community engagement programs, and performances.

 
Conduct ongoing market research and use relevant stakeholder information to continuously inform Step Afrika!'s marketing and communications strategy. 

 

Manage and facilitate dissemination of marketing collateral to presenters and booking partners.

 
Continuously seek ways to expand and refresh marketing collateral

 
Qualifications: 
Bachelor's degree (a degree in Arts Administration or Marketing/Communications is preferred). 

 

Demonstrated superior writing and editing skills.

 

Minimum 3-5 years' experience growing and marketing a brand, specifically within the performing arts. 

 
Excellent interpersonal skills and a proven track record collaborating on projects in a team environment.

 

Entrepreneurial and responsible self‐starter who is proactive, resourceful, and works well under pressure.

 

Detail‐oriented, tech‐savvy, experienced with communicating across multiple channels, and has demonstrated knowledge of campaign analytics and testing. 

 

Proven experience in managing and growing social media platforms and content and technology.

 

Strong organizational and project management skills, ability to juggle multiple projects simultaneously, work efficiently and meet tight deadlines.

 
Demonstrated tact, diplomacy, and ability to collaborate with others and contribute ideas.

 
Application Instructions: 
Step Afrika! is committed to a diverse work environment and is proud to be an equal opportunity employer. All qualified applicants will receive consideration for employment without regard to race, color, religion, gender, gender identity or expression, sexual orientation, national origin, genetics, disability, age, or veteran status. Interested candidates should submit a cover letter, resume, three professional references, and examples of press materials, social media sample posts, and marketing collateral produced to info@stepafrika.org.  
BIPOC candidates are encouraged to apply – interviews will begin promptly with a goal of hiring an exceptional candidate by October 15, 2021. Please note that Step Afrika! requires proof of vaccination for all employees. 
For more information, please visit us at www.StepAfrika.org. 
TEACHING ARTISTS
Step Afrika! is looking for teaching artists to serve as an integral part of our arts education programs. The teaching artists are a major component of Step Afrika!'s connection to our home city of Washington, DC. They serve as lead instructors for school residencies, and will receive ongoing support from the Step Afrika! company.
This is a part-time position with a 10-month contract, with possible renewal. Must be based in Washington, DC. For full job description of our PT Teaching Artists, click here.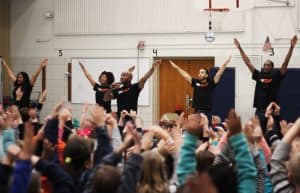 ---