Summer Steps with Step Afrika!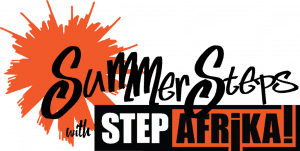 Led by the award-winning and multi-talented artists of Step Afrika!, our camp combines core Step Afrika! values of teamwork, commitment, discipline and academic achievement with excellent performance and artistic training. Each camp culminates with a "step show" performance for family, friends and the public.
Summer Steps with Step Afrika! is a week-long summer camp
for students in rising grades 4 to 12.
Summer Steps with Step Afrika! 2020 is going virtual! 

 
Many of the elements that make our camp unique will remain the same. Students will benefit from: 
A one–week camp (August 3-8, 2020) full of educational and interactive activities with our award-winning artists. We even extended camp to 6 days! 
Summer Steps T-shirt and Student Activity Workbook 
Quality group instruction based on grade and experience level 
Mentorship and valued connections with Step Afrika! artists 
Camp Week: Monday, August 3 – Saturday, August 8, 2020
Time: 9 a.m. to 4:30 p.m.
Location: ONLINE
Culminating Performance Virtual Premiere: Sunday August 23, 2020 at 5:00 pm/et. This event is premiering on Step Afrika! 's Facebook and Youtube pages.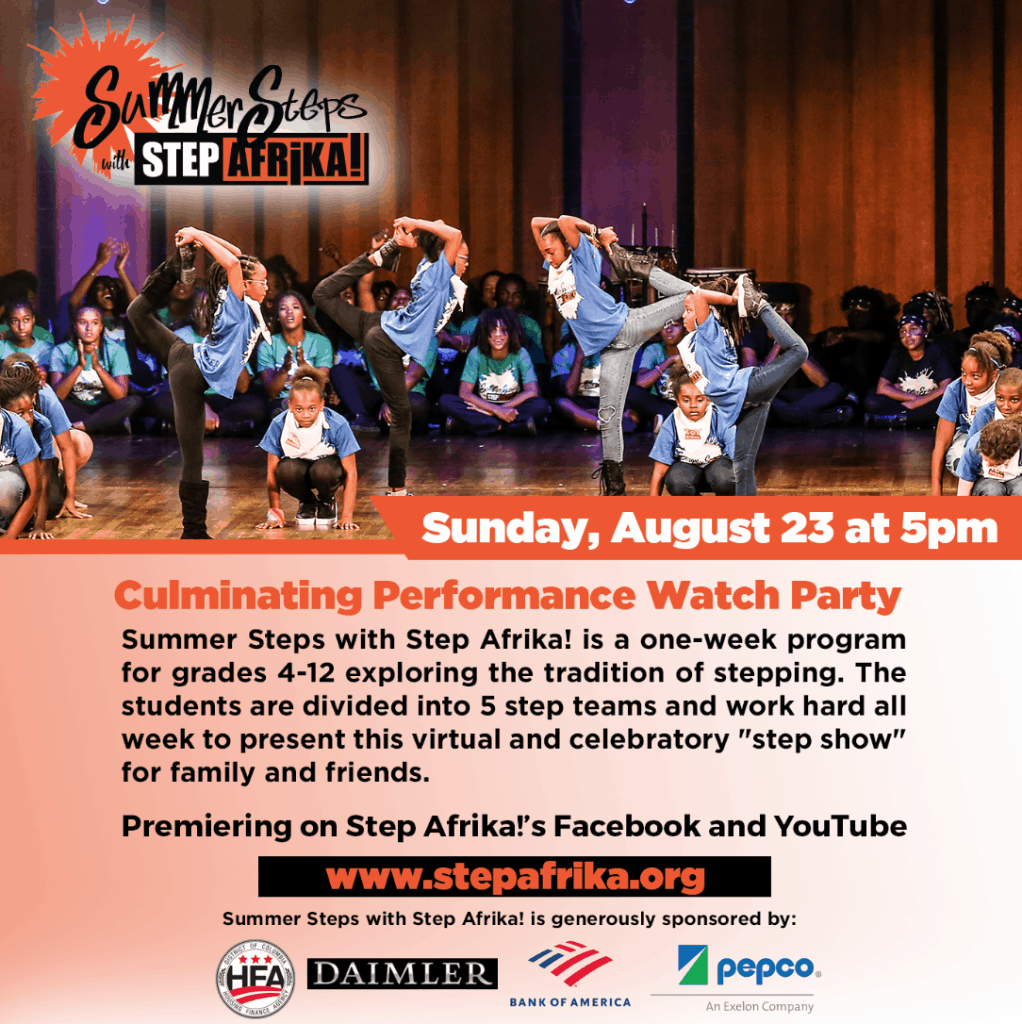 Non-refundable Registration Fee: $30
Tuition: $245
Full tuition must be paid by June 26, 2020.
Summer Steps with Step Afrika! is at capacity for 2020.
We hope you will register for the 2021 Summer Steps in January!

Virtual Step Show Attire: Camp participants must wear camp t-shirts (provided) and hard-soled (not rubber) shoes for the virtual performance. More information will be provided.Click here for a photo of a hard-soled shoe. Shoes can be purchased at various in-person and online stores.
Click below for options:
Youth hard-soled shoes
Men's hard-soled shoes
Women's hard-soled shoes

Summer Steps with Step Afrika! is generously sponsored by: