Summer Steps with Step Afrika!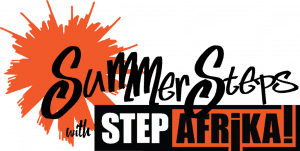 Led by the award-winning and multi-talented artists of Step Afrika!, our camp combines core Step Afrika! values of teamwork, commitment, discipline and academic achievement with excellent performance and artistic training. Each camp culminates with a "step show" performance for family, friends and the public.
Summer Steps with Step Afrika! is a week-long summer camp
for students in rising grades 4 to 12.
Camp Week: Tuesday, August 4 – Saturday, August 8, 2020
Time: 8:30 a.m. to 3:30 p.m.
Location: Trinity Washington University, 125 Michigan Ave NE
Camp Step Show: Sunday, August 9, 2020
Time: 6pm
Location: The John F. Kennedy Center for the Performing Arts, 2700 F St. NW
Non-refundable Registration Fee:
$30 before April 16
$45 before May 29
$60 before June 26
Tuition: $245 (includes daily lunch for participants, a Summer Steps t-shirt, bag, and water bottle).
Full tuition must be paid by June 26, 2020. Needs-based scholarships available.
Waiting List
Summer Steps step is now at capacity. Please email summersteps@stepafrika.org to be added to the waiting list.
Scholarships: If you would like to apply for a needs-based scholarship, be sure to register by clicking "Summer Steps with Step Afrika! SCHOLARSHIP REGISTRATION" on the registration page. The scholarship application is included in the confirmation email and must be submitted separately.
Step Afrika! provides up to twenty-five tuition scholarships to applicants on a first come, first served basis.
Scholarships do not cover the registration fee, and are only applied towards camp tuition.
Scholarship applications must include proof of income – thresholds can be found here.
Incomplete or partially complete forms (e.g. missing required proof of income) will not be considered.

Letter of Recommendation (Required for new participants): All participants who did not participate in 2018 or 2019 Summer Steps with Step Afrika! must submit a letter of recommendation. Letters should be from a teacher or dance instructor. Letters of recommendation must be emailed to summersteps@stepafrika.org by July 24, 2020.

Culminating Event Attire: Camp participants must wear camp t-shirts and hard-soled (not rubber) shoes for the culminating performance. Click here for a photo of a hard-soled shoe. Shoes can be purchased at various in-person and online stores.
Click below for options:
Youth hard-soled shoes
Men's hard-soled shoes
Women's hard-soled shoes


Refunds (Tuition only)
Tuition is 100% refundable within 7 days of payment. If registration is cancelled (in writing to summersteps@stepafrika.org) by May 1, a 50% refund will be issued. After May 1, tuition is non-refundable.
Summer Steps with Step Afrika! is generously sponsored by: